In Volusia County, sea turtle nesting season is from May 1st through October 31st. However, there are many things that you can do year round to help protect these magnificent creatures, including keeping the beach clean, volunteering, and supporting the efforts of the NSB Turtle Trackers.
Please remember to always observe wildlife from a distance! It is illegal to touch or disturb adult sea turtles, hatchlings, or nests and all sea turtles are protected under state and federal laws.
Keep our beaches clean
Please remove all beach furniture before you leave and dispose of any broken items in the blue trash bins on the beach. This will help minimize obstacles and entanglement risks for wildlife, including nesting female sea turtles and emerging hatchlings. Volusia County has a
Please pick up trash before you leave the beach and be sure to recycle any plastic, glass, or aluminum in the yellow recycling bins on the beach. Participate in beach cleans ups whenever you can to help prevent beach waste from entering the ocean.
After a fun day of digging holes and building sand castles, please fill in holes and return the sand to a level surface before you leave the beach. Deep holes can become death traps for nesting females and hatchlings and large sand structures can frighten nesting females causing them to abandon their nesting attempt.
Stop light pollution
Ensure that lights from beachfront homes, condos, and businesses do not illuminate the beach at night and no source of light can be seen from the beach. Artificial lights disturb nesting female turtles and can disorient hatchlings that are trying to find their way to the water. Shield, redirect, or turn off lights at beachfront properties from May through October. Contact the Volusia County Sea Turtle Lighting Office for more information or for help resolving your lighting issue.
Do not shine flashlights or use flash photography on the beach at night. If you need a flashlight for safety, be sure to use only red LEDs or apply a red film over your flashlight to reduce the disturbance to sea turtles.
Do not bring fireworks to the beach. It is Municode Sec. 14-303. – Prohibition against fireworks illegal to possess fireworks on the beach in Volusia County. In addition to creating large amounts of trash on the beach, exploding fireworks frighten nesting sea turtles and can prevent them from laying their eggs. The Fourth of July can be a nightmare for nesting sea turtles!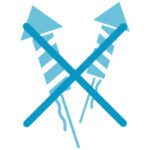 If you see adult or hatchling sea turtles, dolphins, or other marine animals on the beach that appear injured or weak, DO NOT attempt to put them back in the water. Often times these animals need immediate assistance and putting them back in the water will only prolong their suffering. Contact Beach Safety immediately at 386-424-2345, inform them of the problem and the location, and remain with the animal until somebody arrives. They will contact the appropriate agency for assistance with the specific type of animal requiring help. If it is after Beach Safety hours, contact the Sheriff's Office at 386-248-1777 and press 1.
Thank you for your cooperation!
Volunteer
There are several opportunities to volunteer depending on how much time you'd like to commit. From surveying the beach as a NSB Turtle Tracker to participating in our Adopt A Beach cleanups, there are ways for everyone to get involved. Visit our volunteer page for information on how to get involved with our efforts.
Donate
Shop our Donate page to adopt a sea turtle nest for you, your family, and your friends.
You can also show your support for sea turtles by wearing a NSB Turtle Trackers t-shirt or carrying a reusable tote bag.

You can support sea turtles every time you drive by putting a Florida Sea Turtle Specialty License Plate on your car. The specialty plate is available for a donation in addition to the cost of vehicle registration through your local Tax Collectors Office or County Tag Agency.