Most of the environmental stewardship work that takes place in New Smyrna Beach and the rest of Volusia County is conducted by dedicated citizen volunteers who have a little spare time and love the beach! You can get involved with any of the volunteer programs below by contacting us via email at nsbturtles@gmail.com.
As always, thank you so much for all you do to help sea turtle conservation. Your support of our adopt-a-nest program is greatly appreciated. Follow us on FaceBook to keep up with our activities.
<div class="fb-page" data-href="https://www.facebook.com/newsmyrnabeachturtletrackers" data-tabs="timeline" data-width="" data-height="" data-small-header="true" data-adapt-container-width="true" data-hide-cover="false" data-show-facepile="true"><blockquote cite="https://www.facebook.com/newsmyrnabeachturtletrackers" class="fb-xfbml-parse-ignore"><a href="https://www.facebook.com/newsmyrnabeachturtletrackers">New Smyrna Beach Turtle Trackers</a></blockquote></div>
Sincerely,
NSB Turtle Trackers
Thank you for your interest and support of the NSB Turtle Trackers!
NSB Turtle Trackers | Sea turtle nesting survey volunteers (May-October)
[two_third]
During sea turtle nesting season, dedicated sea turtle volunteers survey the sandy beaches every day at sunrise to look for evidence of sea turtle nesting and hatching activity from the night before. Many dedicated volunteers of the former Volusia Sea Turtle Society have joined the efforts of the New Smyrna Beach Marine Turtle Conservancy to monitor and protect sea turtle nesting in New Smyrna Beach.
Nesting surveyors, also called the NSB Turtle Trackers, are a group of volunteers that dedicate 2-3 early mornings each week during nesting season. Survey work is often hot, sandy, and buggy, and volunteers must endure physically demanding conditions while collecting accurate scientific data. Nesting survey positions are limited by permitting restrictions and participants must undergo extensive training by FWC, Volusia County Environmental Management, and EAI Biologists.
[/two_third]
[one_third_last]
[/one_third_last]
NSB Marine Turtle Conservancy| Education & fundraising volunteers (year-round)
[one_third]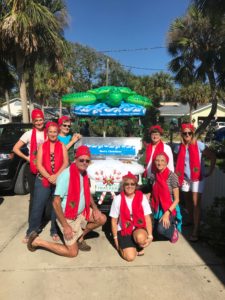 [/one_third]
[two_third_last]
If early mornings are not for you, but you would like to support our volunteer efforts, help is always needed in our educational and fundraising programs. Volunteers present educational programs for schools, civic organizations and other groups. Many volunteers are also needed to help with our educational displays and booths at special events, including the Seaside Fiesta in New Smyrna Beach, and Turtle Day at the Marine Science Center at Ponce Inlet. We also encourage all volunteers to walk with us in the Christmas Parade in December to help raise awareness and support for sea turtles in New Smyrna Beach.
For more information about becoming a volunteer with the NSB Marine Turtle Conservancy, email nsbturtles@gmail.com.
[/two_third_last]
Volusia County Washback Watchers (August-November)
[one_third][/one_third]
[two_third_last]
Are you an avid beachcomber who is interested in looking for more than just sea shells at the beach? If you are, join the Washback Watcher program! This team of permitted volunteers is trained to find and rescue young sea turtles that wash ashore in heavy winds and surf. From August through November, volunteers help search through deposits of seaweed for sea turtles along their favorite section of beach. Training takes place in late June or July. For more information, contact Volusia County Environmental Management staff at 386-238-4716 or 238-4668.[/two_third_last]
Volusia County Beach Clean-ups
[two_third]
Every time you visit the beach, you can help to keep it clean by picking up trash and depositing it in the proper bin for disposal or recycling. A clean beach is more pleasing to look at and is also safer for beach wildlife.
Volusia County hosts the International Coastal and Halifax-Indian River Clean-up on the third Saturday of September. This worldwide volunteer event helps us to understand what trash is plaguing our environment by recording the amounts of each type of trash removed from the beach.
The Adopt-a-Beach program is another great way to help keep your favorite mile of beach clean. With support and provided supplies, adopters (families, companies, organizations) clean their designated mile of beach at least four times a year and report their findings for an annual summary. Adopt your own mile of beach to clean, or help the NSB Turtle Trackers clean our adopted mile of New Smyrna Beach four times each year.
For more information, contact Volusia County Environmental Management Staff at 386-238-4716.[/two_third]
[one_third_last]
[/one_third_last]