NSB Turtle Tracker News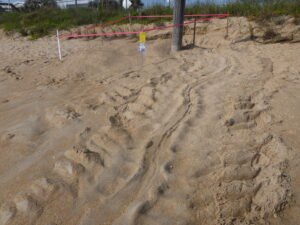 The 2019 sea turtle nesting season has officially ended and it was a record breaking year.  Our survey team is taking a well earned break and will return again next year in May 2020.  Remember if you see a an injured sea turtle or sea bird on the beach, contact Beach Safety at their office near Flagler Avenue in New Smyrna Beach.
On behalf of the NSB Turtle Trackers, we would like to say thank you to all our wonderful turtle friends and volunteers. 
Wishing you all a wonderful holiday season and happy new year.
Historical Nesting Data
The chart below reflects sea turtle nesting totals for each species since 2000 in New Smyrna Beach.
| Year | Loggerhead | Green | Leatherback | Kemp's ridley | Total |
| --- | --- | --- | --- | --- | --- |
| 2019 | 399 | 31 | 1 | 0 | 431 |
| 2018 | 253 | 1 | 2 | 0 | 256 |
| 2017 | 303 | 30 | 0 | 0 | 333 |
| 2016 | 223 | 0 | 3 | 0 | 226 |
| 2015 | 256 | 9 | 8 | 0 | 273 |
| 2014 | 154 | 2 | 2 | 1 | 159 |
| 2013 | 325 | 24 | 4 | 0 | 353 |
| 2012 | 389 | 7 | 2 | 0 | 398 |
| 2011 | 230 | 3 | 4 | 0 | 237 |
| 2010 | 286 | 12 | 3 | 0 | 301 |
| 2009 | 162 | 0 | 3 | 0 | 165 |
| 2008 | 336 | 14 | 0 | 0 | 350 |
| 2007 | 249 | 27 | 2 | 0 | 278 |
| 2006 | 191 | 9 | 0 | 0 | 200 |
| 2005 | 201 | 9 | 2 | 0 | 212 |
| 2004 | 101 | 2 | 1 | 0 | 104 |
| 2003 | 205 | 0 | 0 | 0 | 205 |
| 2002 | 223 | 8 | 0 | 0 | 231 |
| 2001 | 202 | 0 | 2 | 0 | 204 |
| 2000 | 319 | 8 | 0 | 0 | 327 |